Goku: This is weird, I sense Coolers and Friza's power level. I think there back too. I guess iI will have to power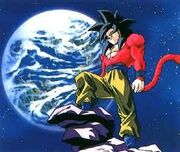 up. This fight will be easy but what will come first. Vegeta might know, I a gonna ask him. Vegeta? Vegeta?
Vegeta: SHUT UP! There i see it.
Trunks: What???
Vegeta: Friza in a fusion with Cooler.
Goku: Let's fight!
Goku: I'am going to go SSJ4.
Vegeta: HAHA, I forgot I have SSJ5!!!!!!
Goku: Ok, fine. Let's see this monster.
Ad blocker interference detected!
Wikia is a free-to-use site that makes money from advertising. We have a modified experience for viewers using ad blockers

Wikia is not accessible if you've made further modifications. Remove the custom ad blocker rule(s) and the page will load as expected.