Frieza
is a universal warlord and one of the main villains in the Dragon Ball Z. He is the ruler of the powerful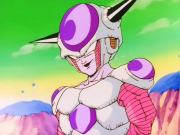 Planet Trade Organization.
Frieza creates many armies from the planets that he conquers, though his most utilized race were the Saiyans. Frieza had heard about the legend of the Super Saiyan, a being with unrivaled power and the only single warrior that could pose a threat to him, but dismissed it as simple mythology; however, after several Saiyans emerged with rapidly evolving potential, Frieza began to fear that the legend of the Super Saiyan would indeed come true.
Thus, when confronted by Bardock, a Saiyan whose powers were growing, Frieza wiped out the Saiyan race by annihilating Planet Vegeta, the home world of the Saiyan race. After analyzing the Saiyans' battle against the Earth, his actions eventually lead him into conflict with the heroes of the series when he tries to take possession of the wish-granting Dragon Balls on the namekian planet. Though still no one could possibly contend with his power, Frieza's fears were realized when he caused the emergence of the mythical Super Saiyan and was defeated by him in a terrific, planet-shattering engagement. Goku, who had escaped Frieza's attempt to destroy the Saiyans, had become the Super Saiyan, ironically, through Frieza's own evil actions.
Appearance
Edit