Gohan
is the son of the legendary hero,
Goku
and his wife
Chi-Chi
his also the older brother of
Goten
. Most of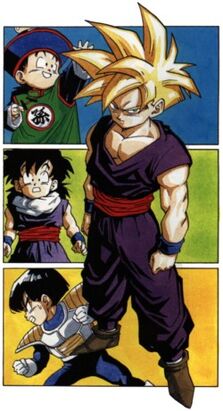 Gohan's appearances change throughout the series the first Human/Saiyan hybrid because his mother, Chi -Chi is a Human and his father, Goku is a
Saiyan
. Gohan's name is a pun because his name in Japanese is rice or cooked rice. But he also got his name from Goku's "
Grandpa Gohan
". Gohan is also best friends with
Piccolo
and
Krillin
.
Hidden power
Edit
As a child, Gohan is known to have within him a seemingly limitless dormant power, which at first only revealed itself when he experienced fierce rage, and when his rage ended, his power would drop dramatically. The earliest occurrence of this hidden power was when he almost crashed into a tree when his stroller was accidentally released,
Appearance
Edit
Gohan's appearance changes drastically through Dragon Ball Z, due to the fact that the series starts out with him as a child and ends when he is fully grown, married, and with a child of his own. But Gohan's basic physical appearance pretty much stays the same through the course of the series. Gohan has black hair and black eyes. He has his father's facial features, and also has his mother's light peach complexion rather than his father's light tan.
When Gohan is first introduced, he wears a child's outfit with his family name, 'Son', written on the front and the Four-Star Dragon Ball attached to his hat, the same Dragon Ball in which Goku believed that his grandpa's spirit resided. Before he transforms into Great Ape and mostly appears in the ending theme of the anime, Gohan wears a white tank top and his green pants and black shoes from his child attire.
While training with Piccolo, he wears an outfit similar to Goku's original, with the 'Ma' symbol (魔) King Piccolo wore after he reverted to his human form from his Great Ape form and his tail was removed also by Piccolo until it grows back during his fight against Vegeta. After training with Piccolo, he has a mullet-type haircut and dons a similar attire to the Namek warrior which he continues to wear until the end of the Captain Ginyu Saga, after which he wears Battle Armor given to him by Vegeta. He would continue to wear clothing similar to Piccolo's for the majority of his childhood, but his hair trended closer to his father's wild self-cut style. During the Androids Saga, he now has long hair and retains the same outfit that he wore in the Saiyan Saga and the Frieza Saga, but now wears black kung-fu shoes and white shin guards instead of brown grass shoes. While training in the Hyperbolic Time Chamber, he begins wearing Saiyan training gear. After leaving the Time Chamber, he grows noticeably taller (roughly Krillin's height), and also quite muscularly developed for his age. He reverts to Piccolo's clothing for the Cell Games, with the addition of Piccolo's white cape and weighted shoulder pads. During this time his hair is spiky much like Goku's.
As a teenager, he is similar in height to his father. His hair is much shorter and stands on end in a spiky formation, with a single bang hanging over the right side of his forehead. Having slacked off on his training, he is fairly thinner and his built has become noticeably leaner. He alternates between a school uniform, his Great Saiyaman costume, a blue gi similar to the Piccolo clothing (except larger in size), a replica of the gi his father Goku wore while he was alive. His obi, wrist bands and shin guards are red but in the movie Broly: The Second Coming, His shin guards are reverted to white. During the Buu Saga, he wears Kai clothing given to him by Kibito. In his fight against Super Buu and reuniting with his father and Vegeta after they defeated Kid Buu, Gohan wears an outfit identical to his father, Goku's and his outfit in the movie Bojack Unboundwhich looks exactly like the one Goku wore in the Androids Saga and Majin Buu Saga. At the party for the celebration of the defeat of Kid Buu, he wears a blue suit as part of his formal clothing.
As an adult in the end of Dragon Ball Z, Gohan's hair would be similar to how it was in the Buu Arc minus the bang which resembles Yamcha's hairstyle from the Androids Saga.
In Dragon Ball GT, he retains his hairstyle from the end of Dragon Ball Z with the only difference being it is a little longer and is usually seen dressed as like a professor or a businessman, in a suit and a tie. He also wears eyeglasses, even though he shows no sign of actually needing them, due to the fact that he does not need them to fight. It is possible, however, that these are reading glasses of some kind, as opposed to general corrective glasses. When facing Omega Shenron, Gohan wears a gi resembling that of the ones Goku used to wear throughout Dragon Ball Z.
In the Assault on the Hell Gate Saga, GT Gohan wears a gi identical to Piccolo's, though without the cape and turban.
Personality
Edit
As a child, Gohan is a shy and studious intellectual child who lacks the Saiyan fighting spirit, so he had to utilize his incredible half-breed Saiyan potential and emotional reserves to protect those he loves, becoming one of the most powerful Z Fighters. As an adult, he achieves his dream career of becoming a great scholar.
Being only half-Saiyan, Gohan is unusual in his values and personality. These unique values and personality separate him from pure Saiyans; as powerful as he is, he does not like fighting much. However, when he is forced to fight, he shows special interest in protecting his family and friends. Like his father, Gohan has a truly pure and gentle heart, apart of having the typical Saiyan appetite and will eat anything.[2]
Though he claims he does not share the love of fighting Goku has, Gohan does indeed love martial arts and adventures. It is also clearly obvious he greatly enjoys being a hero, though he dislikes receiving the fame and attention that comes with being a hero and prefers to keep a low profile. This is evident when he didn't acknowledge Cell's defeat at his hands to the public after Mr. Satan falsely took credibility for it. During the Zen Exhibition Match, he admitted that his Saiyan half was getting excited from the challenge shown by Toppo of Universe 11, demonstrating that he actually does enjoy fighting. It is possible that he prefers not to fight due to the many gruesome and painful fights he experienced in the past, and because of these battles, Gohan has negative emotions associated with fighting. As commented by Piccolo, after Gohan transforms to his ultimate form to fight Buu is shown to be arrogant, and often to let his guard down.
Besides concerning himself with his family (and his studies), Gohan has a strong attachment with his mentor: his father's former archrival Piccolo. After the death of Goku, Piccolo chose to train Gohan as he sensed the boy's potential power, which would be harnessed to help defend the Earth from the attack of the Saiyans. At first, the relationship with Piccolo is a frightening one, but after just one year, Piccolo admits his change because of the friendship he develops with Gohan and even sacrifices himself to save the boy. Because of this, Piccolo can be considered as a surrogate father for Gohan. Krillin also has influence on Gohan, as almost an uncle/nephew relationship, mainly because Krillin is Goku's closest friend. While Gohan does care about his mother, he like his father has a fear of her temper to the point in Dragon Ball Super he informs his mother that Goku planned to leave to train under Whis, stating that he had to tell her for his own safety, though fortunately Chi-Chi surprisingly calmed down after Goku left with Whis. However Gohan will defy his mother if it is important as he tells his mother off after she refuses to let him go to Namek to revive Piccolo using the Namekian Dragon Balls, due to feeling responsible for Piccolo's death at the hands of Nappa.
After the battle with Cell, Gohan gives up martial arts to focus on his studies and only resumed his training at the behest of his little brother Goten. Although he acknowledged he had fallen out of practice and lacked the fighting expertise of his father and Vegeta, Gohan gave all that he had as he fought Majin Buu and was eager to kill Buu for murdering his family and friends. In the years to come, he continued to train on-and-off while having a career and being a family man. He marries Videl, with whom he fell in love despite her being Mr. Satan's daughter, and has a daughter named Pan. Gohan proves to be a loving husband and doting father who takes delight in lavishing his daughter with attention and affection.
Biography
Edit
Background
Edit
Gohan was born in May of Age 757, about a year after Goku and Chi-Chi married following the conclusion of the 23rd World Martial Arts Tournament. As a newborn, he went on for a time without a name until Goku's grandfather's name was mentioned, which Gohan liked, as opposed to the name his mother chose (Einstein). His early childhood was a pampered one, unlike his father's. His life was relatively well-balanced with a loving family and a nice home. Gohan was well-adjusted and intelligent, but unlike his father as a child, he lacked any affection for fighting and was easily scared at a level that most normal children would be. Goku gave Gohan the four star Dragon Ball and put it into a hat for him to honor his grandpa. Once, Goku and Chi-Chi were walking through a meadow with Gohan on a stroller, but the stroller was accidentally released, causing them to chase after it. Gohan was then sent flying out of the stroller, but his latent powers' brief awakening not only allowed him to survive crashing into a tree, but also plowing a hole through the trunk, amazing Goku at the hidden power of Gohan.[8]
Dragon Ball Z
Edit
Saiyan SagaEdit
Edit
Main article: Vegeta Saga
"You stop hurting... MY DADDY!!!"

— An enraged Gohan assaults Raditz ("A Life or Death Battle! Goku and Piccolo's Desperate Attack!")
Despite Goku's protests, Chi-Chi home-schools Gohan to be a scholar until he is four, before Goku takes him to Kame Island to introduce him to Master Roshi, Bulma and Krillin. At this time, he is shown as a shy, but very smart boy who also has a tail like Goku once had before it was removed. He is also very sensitive and appears cowardly at some times. While Goku reunites and talks with his old friends, Gohan rides on Turtle's back, and plays Rock-Paper-Scissors with a crab, enjoying himself. After Goku's brother, Raditz, explains his Saiyan origins and attacks Goku with ease, he kidnaps Gohan, putting Goku at a stalemate, that if he does not kill 100 humans by the next day, Raditz will eliminate his nephew. Gohan soon gets locked up in Raditz's space pod, because Raditz cannot stand his constant crying. It is during this time that Raditz discovers that Gohan is potentially far stronger than Goku himself.
During the battle between Goku, Raditz, and Piccolo, Gohan becomes angry and breaks free of the space pod he is being held captive in when he spots Raditz torturing Goku by repeatedly kicking one of Goku's broken ribs. He delivers a devastating blow to Raditz, giving Goku and Piccolo time to kill the evil Saiyan, though Goku dies in the process as well.
After the battle with Raditz, Piccolo, having seen Gohan's power first hand, decides to take Gohan out training in the wilderness. He leaves Gohan alone to survive against dinosaurs and other dangers for six months, though during this time he watches Gohan carefully. During the first six night, while complaining about the sour flavor of the apples Piccolo has given him, Gohan accidentally looks at a full moon and transforms into a Great Ape. Piccolo destroys the moon, causing Gohan to revert into his normal form before Gohan destroys too much of the land. Piccolo yanks his tail off, then reconstitutes his clothing, giving him a uniform similar to Goku's. The difference: it bears the Demon symbol, to symbolize him being Piccolo's student. For the rest of the year, Piccolo shows no mercy as he teaches Gohan how to fight. Soon, Gohan's bright and cheerful nature makes Piccolo protective over the young boy. As the boy grows on Piccolo, the two of them have a few conversations about Piccolo's past and why he did the things he did and Gohan tells Piccolo he thinks he is not as bad as everyone has told him.
Eventually, the time comes for the Z Fighters to take on the remaining two Saiyans, Vegeta and Nappa. Piccolo senses the Saiyans making their approach and tells Gohan to be ready, when he suddenly senses a third ki from another direction. They think it is another Saiyan but soon find out that it is Krillin who joins them to fight the Saiyans. The Saiyans find them and before the fight starts, they decide to test their Saibamen against the Z Fighters. Soon Yamcha, Tien Shinhan, and Chiaotzujoin them in the fight. While Yamcha and one Saibaman fight, Gohan cannot keep with their speed through his eyes alone, so Piccolo orders Gohan to concentrate and find them using Ki Sense, which Gohan is eventually able to master quickly. When Nappa begins to fight after Yamcha is killed and the six Saibamen are destroyed, Gohan is able to sometime control his fear but becomes frightened and hides behind rocks at times his age catches up with him. This prevents him from being very effective in the battle, except for short intervals, such as a point when he single-handedly kicks Nappa through a boulder. During one part of the battle, Piccolo hatches a plan for Gohan to blast Nappa after Piccolo has kicked him towards Krillin, and Krillin then will kick Nappa towards Gohan for the attack. The first two thirds of the plan work accordingly, but when it is Gohan's turn, Gohan cowers behind more boulders, botching the plan, resulting in Piccolo calling him a worthless coward. When Vegeta gives the group three hours for Goku to arrive, Piccolo loses all hope in Gohan, and after some bickering, he orders Gohan to go home. However, Gohan refuses and even realizes Nappa would not let him go away.
When the fight continues after Goku fails to arrive on time, Gohan regains his confidence and does his best to amend for his previous cowardice. Piccolo hatches another plan for Gohan to attack Nappa after Krillin distracts him and Piccolo grabs his tail. Though Gohan quickly goes on the assault, the plan fails when Nappa is shown to have overcome his tail's weakness. Eventually, when Nappa fires a lethal energy blast at Gohan, Piccolo throws himself in front of Gohan and takes the impact. Gohan watches his mentor slowly die, and while Piccolo confesses his true bond with Gohan, Gohan's emotions once again take over, starting to cry in extreme anger. Once Piccolo slowly passes on, Gohan in turn fires a powerful Masenko at Nappa, which does only minimal damage to his arm. With that last Masenko consuming all the energy he had left, Gohan decides to give up and meet his fate, despite Krillin's protests for him to run. He is almost squashed by Nappa, but is saved by the Flying Nimbus when the resurrected Goku finally arrives to the battle. After eating a Senzu Bean with Krillin, he watches Goku overpower Nappa. When Vegeta killsNappa, Goku tells Gohan to let him battle Vegeta alone, not wanting Gohan to get hurt again.
Later on, after Vegeta turns into a Great Ape using a Power Ball and injures Goku, Gohan returns to the battle. After Yajirobe chops off Vegeta's tail, making him transform back, Gohan fights Vegeta alone while Krillin and a broken Goku prepare to fire a Spirit Bomb, the last resort. Krillin fires the Spirit Bomb, but misses. Gohan bounces it back, hitting Vegeta, but not killing him. Gohan himself transforms into a Great Ape after looking at Vegeta's Power Ball. He defeats Vegeta by landing on him after Vegeta cuts his tail with a Destructo Disc. Afterwards, Goku lets Vegeta go, hoping to one day face him again.
Frieza Saga
Edit
Main articles: Namek Saga, Captain Ginyu Saga, and Frieza Saga
After recovering from his injuries in West City hospital, Wukong Hospital, Gohan chose to go to the planet Namek with Krillin and Bulma to gather the Namekian Dragon Balls to bring back his friends back to life, because Piccolo's death caused Kami's death too, which caused the Earth's Dragon Balls to turn to stone. Gohan was on a personal mission to wish back Piccolo, and went so far as to wear a copy of Piccolo's dōgi to honor him.
After their long trip, with a few sidetracks, they finally make it to Namek, where they find out Vegeta has also come seeking the Dragon Balls, along with his former far more powerful boss, Frieza. While scouting the planet with Krillin, Gohan spots Frieza and his minions, Zarbon and Dodoria, tormenting Namekian villagers. When Gohan sees Dodoria, one of Frieza's top henchmen, attack a little Namekian child named Dende, he goes out and attacks him. Afterwards, Dodoria chases Gohan, Krillin and Dende, but they eventually lose him and Vegeta kills Dodoria. Dende leads Gohan and Krillin to Grand Elder Guru, the ruler of the Namekians, where he unlocks both of their hidden potential. Later, Gohan steals a Dragon Ball that Vegeta has hid in a lake for himself, and even tricks Vegeta who runs into him on his way back from retrieving the ball. Vegeta figures this out eventually and becomes enraged, but the arrival of the Ginyu Force makes Vegeta have to form an alliance with Gohan and Krillin in order to get all the Dragon Balls and put up a fight against Frieza's feared Special Forces. Unfortunately, when they gather all of the Dragon Balls, they are ambushed by the Ginyu Force. The weakest of them, Guldo, is to take on Krillin and Gohan, but fails as Vegeta steps in and decapitates him with his hand.
Then, when Vegeta is fighting a losing battle against Recoome, Krillin and Gohan step in and fight, but it is still not enough. Gohan is on the brink of death until Goku shows up with Senzu Beans. Goku takes on the rest of them, but has his body switched by Captain Ginyu. With Goku completely weak in Captain Ginyu's body, Gohan has to try to fight Captain Ginyu in his father's body (although he is initially reluctant to do so, despite knowing it is not his dad, as he still feels he is injuring his dad by doing so). Captain Ginyu is unable to fully figure out Goku's powers and after a short fight with Gohan, Krillin, and Goku in Ginyu's body, Vegeta kills Jeice and ultimately defeats Ginyu. After Captain Ginyu ends up in a frog's body, Gohan and the others gather the Namekian Dragon Balls and wish for Piccolo to be brought back to life on Namek.
Shortly after, Frieza ambushes them, making them stall for Piccolo to come. In the Z Fighters' battle against Frieza's second form, Krillin is injured by the tyrant and is sent into the depths of the water below. Gohan rushes to save his friend from drowning, but Frieza stops him. Getting angry, Gohan attacks Frieza with a barrage of punches and kicks followed by the Gekiretsu Madan (a massive wave of energy blasts), following up with a Masendan to finish the job, that would bring the tyrant to his knees.
When Piccolo (now greatly powered up after fusing with the Namekian hero Nail) arrives on the battle field, he fights an even battle against Frieza while Gohan and the others watch in amazement. However, Frieza transforms into his third transformation and gains the upper hand against Piccolo. Seeing this, Gohan becomes enraged and attacks Frieza with the Full Power Masenko, hindering Frieza for a few minutes. Eventually, Frieza manages to deflect the attack back at Gohan, who is saved by Piccolo when he destroys the attack with a Ki Blast. Frieza then transforms into his final form, and as his first act, kills Dende, who had been healing the Z Fighters. Frieza then tries to kill Gohan with a Death Beam, but Vegeta saves the young Saiyan by kicking him out of the way of the blast. Gohan, Krillin, and Piccolo watch in horror as Vegeta gets brutally beaten by Frieza until Goku arrives. In the end, Vegeta meets his end at the hands of Frieza, who kills him with a Death Beam.
Gohan and the others are left on the sidelines while Goku fights an even battle against Frieza. However, things turn bad when Frieza powers up to 50% of his power and gains the upper hand against Goku, who desperately attempts to use the Spirit Bomb. In order to buy Goku some time, Gohan and Krillin lend their energy to Piccolo so he can stall Frieza enough for Goku to complete his Large Spirit Bomb. When Frieza prepares to kill Piccolo, Gohan and Krillin summon up the last of their energy and distract the tyrant with a surprise attack, saving the Namekian's life. Goku then fires his completed Spirit Bomb. It proves successful and Frieza is plummeted into the depths of the Spirit Bomb, heavily injuring him.
Believing the tyrant to be dead, the heroes relax and prepare to go back home to Earth, until Frieza appears on top of a boulder and reveals to be alive. Frieza mortally wounds Piccolo (in the anime, Frieza attempted to fire a Death Beam at Goku, but Piccolo pushed him out of the way and got hit by the laser instead, whereas in manga, Frieza intended to fire the attack at Piccolo), overwhelming Gohan with horror and grief at the presumed death of his mentor and friend. Next, Frieza kills Krillin, by telekinetically blowing him up into pieces, which enrages Goku and allows him to transform into a Super Saiyan. He assertively orders Gohan to take Piccolo and retrieve Bulma and take them to the ship that he traveled in and use it to head back to Earth. Reluctantly obeying his father's wishes, Gohan leaves the battle field with the unconscious Piccolo and manages to retrieve Bulma.
"You killed my Dad. And Krillin too. And the others... Because of you, they're gone! I'm going to make you pay for what you did to them!!!"

— Gohan angrily challenges Frieza when believing Goku to be dead in "Goku's Furious Roar! A Last-Minute Resurrection Wish!"
Later, when he senses that his father is supposedly dead, Gohan returns to the fight to stall Frieza before Namek explodes. However, despite his best efforts, he is unable to stall Frieza as the tyrant taunts him and he is not fighting, in addition to Frieza deducing the real reason Gohan is attempting to fight him. However, Gohan then senses that his father is still alive and powers up. Next, Gohan attacks Frieza with a barrage of punches and kicks, knocking him to the ground and finally blasting him with a Super Masenko. Unfortunately, Frieza appears unaffected by the attack and powers up to full power again, saying that Gohan is a true Saiyan and that is why Frieza must kill him. However, before Frieza can kill Gohan, Goku rises up from the ocean below and tells Gohan to get off Namek. Gohan flies away from the fight and encourages his father to win. As Gohan is flying back to the spaceship, he and the others are later transported to Earth by Porunga while Goku is left finishing the battle with Frieza on the dying planet Namek.
After Goku wins the battle, but is caught in planet Namek's explosion, Gohan and the others mourn the Saiyan warrior's apparent death. Months later, they are allowed to use the Namekian Dragon Balls to wish Goku back to life. However, they are shocked after the Eternal Dragon Porunga refuses the wish that Goku be brought back to life, but everyone rejoices once the Dragon explains that Goku did not die from Namek's explosion. During this time of peace, everyone awaits the arrival of Goku, and Gohan goes back to his studies while Piccolo watches over him and his mother.
Cell Saga
Edit
Main articles: Garlic Jr. Saga, Trunks Saga, Androids Saga, Imperfect Cell Saga, Perfect Cell Saga, and Cell Games Saga
Ad blocker interference detected!
Wikia is a free-to-use site that makes money from advertising. We have a modified experience for viewers using ad blockers

Wikia is not accessible if you've made further modifications. Remove the custom ad blocker rule(s) and the page will load as expected.