Gohan
is the son of the legendary hero,
Goku
and his wife Chi-Chi his also the older brother of Goten. Most of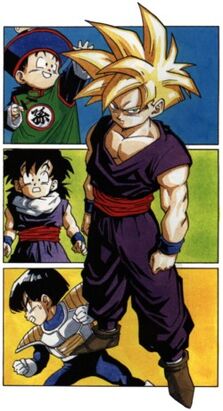 Gohan's appearances change throughout the series the first Human/Saiyan hybrid because his mother, Chi -Chi is a human and his father, Goku is a
Saiyan
. Gohan's name is a pun because his name in Japanese is rice or cooked rice. But he also got his name from Goku's "Grandpa Gohan". Gohan is also best friends with
Piccolo
and Krillin.
Hidden power
Edit
As a child, Gohan is known to have within him a seemingly limitless dormant power, which at first only revealed itself when he experienced fierce rage, and when his rage ended, his power would drop dramatically. The earliest occurrence of this hidden power was when he almost crashed into a tree when his stroller was accidentally released,
Appearance
Edit
Ad blocker interference detected!
Wikia is a free-to-use site that makes money from advertising. We have a modified experience for viewers using ad blockers

Wikia is not accessible if you've made further modifications. Remove the custom ad blocker rule(s) and the page will load as expected.