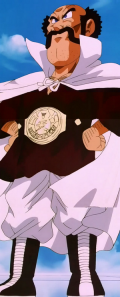 "Don't you worry about me! I'm a master of Martial Arts and I'm also packin' some serious heat! And as soon as Majin Buu pops his head outta that hole, he'll be eatin a lead salad!" — "The Old Kai's Weapon"
Mr. Satan known as Hercule or Hercule Satan in the FUNimation Dub, is a character in the manga Dragon Ball, and the animes Dragon Ball Z and Dragon Ball GT.
In the original Japanese media his name is Mr. Satan, however he is referred to as Hercule in FUNimation's English dub (though he retains his original name in unedited releases) as well as Viz's own English versions of the manga. This is attributed to the typical process in Dragon Ball (and shōnen in general) of stripping Judeo-Christian references for the sensitivities of Western audiences. "Hercule" originates from Hercules, in Roman mythology. In the U.S. edition of Shonen Jump, it is explained that Hercule is the real name of the character while Mr. Satan was his stage name. This was later contradicted in the Super Exciting Guide: Character Volume, where it was revealed in an interview with Akira Toriyama that Mr. Satan is his stage name and his real name is Mark, a rough anagram of Akuma, which means "Devil" or "Demon" in Japanese, keeping in line with his family's naming scheme.
The Man behind the Champ
Edit
Mr. Satan enjoys eating high class steak and riding high class Satan model cars. He has a car with the numbers "666" on the side. A clear reference to 666 being the number of the devil, connecting back to Mr. Satan and his name reference. During the Dragon Ball Z time period, Mr. Satan is the reigning World Martial Arts Champion, a title won fairly by beating other normal humans in a time when Goku and other powerful fighters were battling on Namek and later against the Androids. During this time, Mr. Satan became rich and famous, but also an egomaniac. He boasted endlessly on television about his strength, and that he was the "best fighter in the world." In the eyes of characters who know otherwise, he is considered to be a showboating blowhard. When the Z Fighters arrived on the scene starting with the Cell Games, he started a pattern of claiming them to be his disciples, which, while preserving his status and self-serving ego, has produced good results in the past.
In spite of showing many signs of greed and cowardice, Mr. Satan is still a fundamentally good, friendly and kind-hearted person. He genuinely cares about protecting the innocent and fighting for justice to the best of his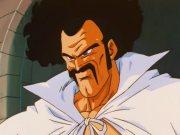 abilities, and is prone to violent and righteous anger when faced with the abuse of helpless innocents by villains. He shows moments of great courage when his family and friends are threatened by evil. Mr. Satan's true colors are foreshadowed when he risks his life to get Android 16's head near Gohan, which leads to Gohan's transformation to Super Saiyan 2. In the Majin Buu Saga, Mr. Satan is revealed to be a fundamentally good man as opposed to the arrogant showboat persona he exhibits, and his bravery and kindness towards the good Majin Buu play a major role in Kid Buu's defeat at the end of the Kid Buu Saga. Prominently, he has saved the lives of Bee, Vegeta, and even Majin Buu.
Recognizing that Majin Buu was used in his innocence by Babidi, he tearfully begged Vegeta to spare his life as he laid helpless after being beaten by Kid Buu, and was ready to risk death to protect him. Mr. Satan's love for his friend moved Goku enough to join in his defense, allowing the formerly evil monster to start a new life as a hero and benefactor to society.
Mr. Satan's skill as an orator came into good use by the series' end. Without the adoration and support of his legions of followers, the Z Fighters would never have been able to raise the Spirit Bomb and defeat Kid Buu. By the end of Dragon Ball Z, Goku and his friends come to see the good in Mr. Satan and decide that he is a noble hero.
24th World Martial Arts Tournament
Edit
Spopovich vs. Mr. Satan duing a flashback &nbsp In anime-exclusive flashbacks of the previous 24th World Martial Arts Tournament, Mr. Satan is briefly seen fighting Spopovich (back when he was a normal human) in the tournament's first-round match. It is here that one can easily see Mr. Satan's capabilities in comparison to that of other "normal" (human) martial artists (and that Mr. Satan does have some martial ability indeed, enabling him to defeat human opponents with less skill and/or power level than him). He easily defeats Spopovich and goes on to fight and defeat Jewel in that tournament's final-match, winning the 24th World Martial Arts Tournament. Note: None of the Z Fighters fought in this tournament, allowing Mr. Satan to win it easily and fairly. Taking on CellEdit
Mr. Satan announcing his participation at the Cell Games&nbsp
After hearing Perfect Cell's announcement of the Cell Games, Mr. Satan announces to the world that he will enter the tournament and defea
t Cell. At ringside, Goku tries several times to warn Mr. Satan against confronting Cell, but the World Champion believes he is more than equal to the task of taking down the deadly bio-android. Throughout the Cell Games Mr. Satan is convinced that Cell is a mere trickster, having never seen ki attacks before and believing them to be mere light shows. Mr. Satan (and his top students Caroni and Piroshki as well, in the anime) face Perfect Cell and lose quickly in embarrassing fashion. The ZTV reporter on-hand to chronicle the Cell Games repeatedly ridicules Goku and the other Z Fighters, firmly believing (along with most of the world) that Mr. Satan is the only one who stands a chance of triumphing over Cell. After showing off his strength by destroying fourteen out of fifteen tiles, Mr. Satan attacks Cell with his Dynamite Kick, but Cell launches him from the ring with a single effortless flick of his hand, at which point Goku steps in and the tournament commences.

Claiming that he simply slipped out of the ring, Mr. Satan (and his pupils) sit out the rest of the Cell Games, watching Goku, and subsequently Gohan, fight Perfect Cell. Mr. Satan is repeatedly questioned by Jimmy Firecracker of the television crew about returning to the ring to face Cell again, but each time the World Martial Arts Champion insists he is suffering from agonizing stomach pains that are preventing him from a rematch. Although Mr. Satan cowers in fear for much of the time, he does play a pivitol role in Gohan's eventual victory over Cell. After Cell destroys Android 16's body, the severed head of 16 lands near the area where Mr. Satan and the TV crew are hiding. The still fuctioning head of 16 implores them to carry him over to Gohan. Putting aside his fear (and looking to save face in front of the news crew), Mr. Satan agrees to bring the head of Android 16 to Gohan. This sets into motion the sequence of events ultimately reponsible for unleashing Gohan's hidden power.
Near the end of the Cell Game, the television equipment is destroyed and the conclusion, in which Gohan (with help from Vegeta) finally destroys Cell with a Kamehameha Wave, is not broadcast to the global audience. The television crew, having sought shelter from the devastating ki attacks, does not witness Cell's demise.
After the Z Fighters depart, Mr. Satan convinces Jimmy and everyone else that Gohan was beaten and that he defeated Cell single-handedly with a vicious karate chop. Despite some initial skepticism at these claims, the gullible masses are quickly convinced that Mr. Satan indeed defeated Cell and he becomes the world's new hero and hottest celebrity.
The next World Tournament
Edit
Trunks vs. Mr. Satan Added by Beadtmdc Seven years after Cell's defeat, Mr. Satan has become increasingly rich and famous. Satan is seen in several moments, including for a few seconds training his pupils, and cowering away in his home to avoid a gang of thugs, even as they take advantage in a fight against his daughter, Videl. He is also briefly mentioned during a conversation between Gohan and Videl as they both secretly hoped for Gohan to beat Mr. Satan at the next World Martial Arts Tournament so that Satan could be taught a lesson in humility and respect. Videl initially scoffs at any suggestion that her father is not all that he claims to be, though over time she comes to see the truth. She also confides in Gohan that her father, once an accomplished martial artist, is now living solely off his reputation and no longer keeps up with his training.
Android 18 vs. Mr. Satan during the Tournament Added by Beadtmdc As reigning World Champion, Mr. Satan is automatically entered into the World Martial Arts Tournament (aka: Strongest Under the Heavens) and is dismayed to see the Super Saiyans (The "Golden Fighters") there, remembering them from the Cell Games. Satan rides out the tournament in fear of being exposed as a fraud, knowing full well that he does not stand a chance against Goku and his friends. After the Junior Division Final in which Trunks defeats Goten, Mr. Satan is set to fight an exhibition match with Trunks. Satan asks Trunks to only lightly tap him on his face, however by even a light tap, Trunks knocks him out of the ring. The audience believes it was all for show and that Mr. Satan let the Junior Champ win (though he was knocked against a wall and brutally injured his nose and is seen grieving over the pain in private shortly afterward). The ancient evil, Majin BuuEdit After the World Martial Arts Tournamen was interrupted by Spopovich and Yamu's attacking Gohan, Mr. Satan is set to fight in a Battle Royal against Android 18, Killa, Jewel, and Mighty Mask. Soon, Killa and Jewel are eliminated, and Android 18 reveals Mighty Mask's true identity (Trunks and Goten). Android 18, who does not want the fame of winning, agrees to throw the final if Satan pays her 20,000,000 Zeni (double the prize money).
At one point in an anime-exclusive filler, Mr. Satan was in the shower room shortly after his "win" against Android 18, thinking about what had happened in regards to most of the audience being blown away. However, some Paparazzis burst in and started questioning him about his win against Android 18, and he claims to "not hide anything from the fans", and while laughing, accidentally drops his towel in front of everyone, causing the Paparazzis to take pictures of the exposure. Another point in another anime-exclusive filler, he foolishly tries to fly, only to land on and hurt his weak point: his nose (and later tries to cover up his behavior to a bunch of fangirls walking in on him). Later, when Vegeta (Now a Majin) attacks the crowd in order for Goku to fight him, Mr. Satan taunts Vegeta, but becomes terrified when Vegeta tells him to keep quiet. After this, Babidi teleports Vegeta, Goku and the others to the a desertic area.
Befriending the monster
Edit
After Majin Buu kills Babidi and starts terrorizing the Earth, Mr. Satan is sent to his house to kill the monster. Mr. Satan tried to do so by giving Buu deadly presents such as cyanide-filled chocolates and an explosive video game, but Majin Buu likes them, and makes Satan his playfriend. The cunning Satan then tricks Majin Buu into posing for a photo, having him lie on his belly while Satan strikes a pose, and then becomes Majin Buu's servant. While Mr. Satan plans to use a super explosive to try and kill Majin Buu, Majin Buu returns early from a killing spree with a hurt puppy, showing signs of good in him. Mr. Satan brings this good to the surface by helping Majin Buu heal the puppy and convincing him kindly that killing is wrong. Mr. Satan and Majin Buu then form a true friendship, and name the puppy Bee. Note that this is the only time where Mr. Satan was actually directly involved with a supervillain and almost triumphed against as well, because, should he have been able to win Majin Buu completely over to the side of the Z Fighters, the Z Fighters would have gained this new, powerful ally without the vast majority of the Buu saga, specifically the mass genocide caused by Super Buu and Kid Buu, having to take place.
Their happiness is short lived when Bee is shot (by a bullet) and Buu along with Mr. Satan, are attacked by two evil humans, the killer thug Van Zant and his cohort Smitty (both unnammed in the original Japanese, in which Smitty refers to Van Zant as "Young Master"), with rocket launchers. Mr. Satan bravely stands against them, hitting Smitty with a rock and confronting the ringleader (Van Zant) who is reaching for his weapon. Mr. Satan fearlessly dares the thug to try it (stating "Go ahead, pick it up!"). The thug then grabs his weapon, but is immediately assaulted by Mr. Satan (who shouts, "Now It's Your Turn!"), kicking the weapon out of the thug's hands and delivers a furious beating on him for cold-bloodedly shooting Bee (and attempting to kill both him and Buu). He ends the assault with a final kick, sending the punk tumbling off the cliff (Van Zant survives, however), defeating him. After this, a triumphant Mr. Satan calls Van Zant a "Heartless Monster!", and finally proves himself to be a true "hero" (it should benoted that this is one of the few fights where Mr. Satan "completely" dominates his opponent; it also shows that given the right motivation, Mr. Satan is capable of defeating even "armed" opponents when angered).
Ad blocker interference detected!
Wikia is a free-to-use site that makes money from advertising. We have a modified experience for viewers using ad blockers

Wikia is not accessible if you've made further modifications. Remove the custom ad blocker rule(s) and the page will load as expected.