Kaio-ken
(界王拳, "Fist of the World King" or "World King Fist") is a fighting technique invented by King Kai. However,
Goku
is the only person ever able to successfully use it. It is a technique that multiplies the user's ki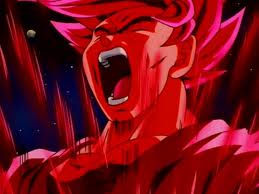 for a "heart beat", enabling them to inflict serious damage to opponents who are considerably stronger than them. After the introduction of the Kaio-ken, it became one of Goku's signature attacks; however, it became greatly overshadowed by his ability to become a
Super Saiyan
later on in the animated series and manga. While in the state, the ki aura's color becomes crimson.
Ad blocker interference detected!
Wikia is a free-to-use site that makes money from advertising. We have a modified experience for viewers using ad blockers

Wikia is not accessible if you've made further modifications. Remove the custom ad blocker rule(s) and the page will load as expected.