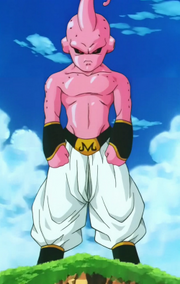 Kid Buu
, also known as
Majin buu
, is the original and purest form of Majin buu and the last form of Buu that appears in
Dragon Ball Z
. This Buu appeared after all of the fighters he had absorbed were removed from his system. Unlike his previous forms, this form of Buu's thought process is seen to be irrational and spontaneous, even destroying his own body to destroy the Earth. The first form he appeared in was actually the form that he took after he had absorbed Southern Supreme kai and Grand Supreme kai millions of years earlier. Although he appears smaller than any other form, he is more dangerous than any other forms of Buu due to his full relentless evil and unpredictability. He is also completely free of restraint and has no
trace of sanity, and because of this is extremely volatile. He retains his childish personality, becoming amused and laughing hysterically at his own destruction of entire worlds. In addition to this, he is the final villain of the
Dragon Ball manga
.
He appears on the cover of super sonic warriors 2 even though he is not in the game.
Ad blocker interference detected!
Wikia is a free-to-use site that makes money from advertising. We have a modified experience for viewers using ad blockers

Wikia is not accessible if you've made further modifications. Remove the custom ad blocker rule(s) and the page will load as expected.