Launch
is a woman with a strange disorder which changes between two personalities each time she sneezes.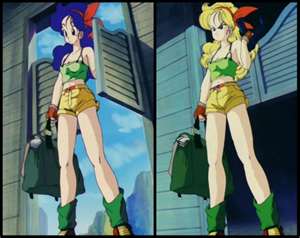 Her first personality is a sweet, blue haired woman, who is pure hearted. Her other personality is an angry, trigger-happy, blonde woman, who commits crimes for fun and is quick to respond with gunfire when angered. Neither of Launch's personalities remembers the other's actions, or anything they said.
Good Launch
Edit
This version of Launch has blue hair. The innocent persona of Launch is pure of heart as she is quite capable of riding the Flying Nimbus with Goku and Krillin in the anime. Launch is happy to carry out her work for Master Roshi, never realizing that he is constantly trying to grab, poke, rub, or catch a glimpse of her breasts, panties, or bra. However, many of his schemes are foiled, if not by his own mistakes. When Launch's nose gets tickled and she sneezes, it causes her to change into her violent half. Launch has a very sensitive nose, that, when irritated by even the smallest things, can result in a sneeze. Her sneezes are often provoked by things such as flowers, pepper, dust, and other common allergens.
Bad Launch
Edit
In her bad form, Launch has blonde hair. Goku, Master Roshi and Krillin are all deeply afraid of her bad side after she shoots them all with a machine gun. Afterwards, all of them run behind a boulder several meters away in fear, after being victims of her first assault, when it seemed like she would sneeze, and carefully observing her during dinner, ready to run away at the first sign of a sneeze. Somehow, she always appears to have a machine gun on her.
Her transformations come in handy during the 22nd and 23rd World Martial Arts Tournament, when she would clear the crowd and allow her friends to get up in front. Additionally, in the later episodes of the series, she seems to be more in control of her blonde form, whereas her earlier transformations in the series turn her into a berserk maniac with no control. In fact, later on in the story, she begins to control her blonde form completely and this is confirmed when she is shown to care greatly for Goku and the others, and even cries after Krillin's death, though she is still more aggressive than her other half.