Majin Vegeta is the form Vegeta became when he became a follower of Babidi and gains a significant boost in his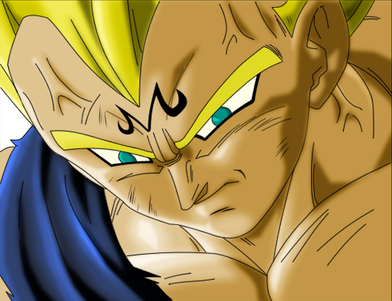 power from his influence. While having the Majin seal on his forehead, dark black lines around the eyes and increased muscle mass puffed up to the level that veins appear all over the body and face due to the intensity of the level. Vegeta's true dark nature is reawakened (hence, the Japanese Perfect File books refer to this state as "Demon Prince Vegeta"), and in turn became more powerful than he was before. Majin Vegeta usually fights at the level of Super Saiyan 2 and his power equals that of Goku at his Super Saiyan 2 level, and later to that of himself when he fights Super Buu w/Gohan absorbed and Kid Buu. After Vegeta is killed by his devastating Final Explosion as a last resort to destroy Majin Buu, this form is never seen again in either the manga or anime.
The form later reappears in Dragon Ball Z: Shin Budokai - Another Road, as Future Babidi again uses his magic to try and brainwash Vegeta. However, unlike the last time Vegeta transformed into Majin Vegeta, this time, it was completely against Vegeta's will. He also appears in the previous game Dragon Ball Z: Shin Budokai in a similar manner, in that Vegeta does battle with Majin Vegeta (in reality Janemba in disguise), but Majin Vegeta/Janemba then possesses him, despite Vegeta's best efforts to prevent it.
Ad blocker interference detected!
Wikia is a free-to-use site that makes money from advertising. We have a modified experience for viewers using ad blockers

Wikia is not accessible if you've made further modifications. Remove the custom ad blocker rule(s) and the page will load as expected.