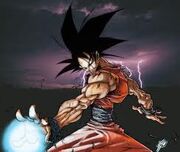 Melograno
is a
Saiyan
killed by
Frieza
during the deruction of Planet Vegeta. He was wished back to life when
Vegeta
asked Shenron for a warrior stronger than Omega Shenron and Melograno was born. Melograno was training in
hell
and achieved Super Saiyan 8, one of the strongest forms of Super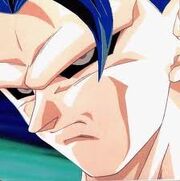 Saiyan. He was able to kill many of the z fighters untill it was only
Gohan
, Vegeta,
Goku
, and
Pan
. Pan was the next to die. Goku said the only way to defeat Melograno is to fuse with Vegeta. But, Vegeta would not fuse so he could beat Melograno himself and become the strongest in the universe. Vegeta soon died by a hell
Kamehameha
, Melograno's best move, and it was just Goku and Gohan. They tried a fusion dance but Gohan was beated away by Melograno and they were not able to finish. To create a diversion King Kai called the Namekians to
use their dragon balls to turn Gohan back to 13. This caught Melograno off gaurd and the fusion was finished. Gokanu was formed. Gokanu was enough to finish Melograno but, when Melograno was about to die, he slammed himself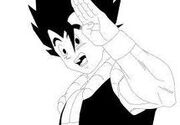 with a hell kamehameha and became Hell Melograno. Hell Melograno was enough to almost kill Gokanu. But, King Kai used the second wish to make Gohan a man again. Gokanu and Hell Melograno were even in power and it was a hard fight. Gokanu used a Masenko Kamehameha to kill Hell Melograno and save the earth.
Ad blocker interference detected!
Wikia is a free-to-use site that makes money from advertising. We have a modified experience for viewers using ad blockers

Wikia is not accessible if you've made further modifications. Remove the custom ad blocker rule(s) and the page will load as expected.