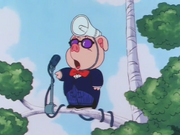 Mr. Pig is a resident of Peguin Village. He is a pig dressed in a suit wearing a loud speaker on his head. Mr. Pig talks in a microphone stateing the time of day it is in Penguin Village. He appears in Dr. Slump and in Dragon Ball when Goku follows General Blue into Penguin Village.
Ad blocker interference detected!
Wikia is a free-to-use site that makes money from advertising. We have a modified experience for viewers using ad blockers

Wikia is not accessible if you've made further modifications. Remove the custom ad blocker rule(s) and the page will load as expected.