Recoome
is a large, muscular,
humanoid
alien with red hair. He is the most flamboyant member of the
Ginyu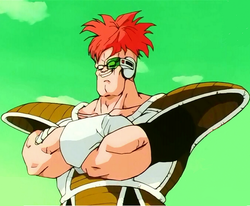 Force
, seen striking poses more often in battle than
Captain Ginyu
himself, and generally behaving in a deceptively goofy manner. However, Recoome is actually fairly intelligent, as well as sadistic, and he greatly enjoys toying with his opponents and drawing them in with taunts. Recoome is one of the longest-lasting Ginyu Force members in terms of screen time, though chronologically he is defeated second and dies not long after. He is also the first member of the Ginyu Force to appear onscreen during the team's elaborate introductory routine to Friza. His Japanese name, Rikūmu, is the Japanese word for cream (kurīmu) rearranged. Viz went with the spelling of Reacoom in the Dragon Ball Z manga to reflect this pun (the "Recoome" spelling also reflects this pun when cream is spelled as "creme").