Tapion is a character from the movie, Dragon Ball Z: Wrath of the Dragon. He acts as the protagonist of this film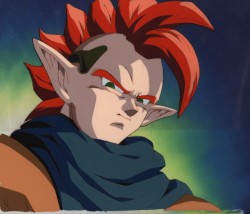 and is described as a 'Legendary Hero' from a planet named Konats.
The Hirudegran War
Edit
Thousands of years ago, Tapion and his younger brother Minotia were ordinary Konatsians, living on the peaceful planet of Konats. However, one day, a group of black magicians known as the Kashvar performed an ancient ritual that revived a statue, the ruthless and enormous monster Hirudegarn. With no sense of reason, Hirudegarn would eventually use his incredible power to destroy the planet Konats.
During the battle between Hirudegarn and the Konatsians, Tapion and Minotia used their special ocarinas to hold Hirudegarn at bay. Given this opportunity, a wizard brandished an enchanted sword and used it to slice Hirudegarn in half. Tapion, Minotia and the wizard were then known as Great Heroes among the Konatsians. To ensure Hirudegarn's eternal imprisonment, Tapion and Minotia agreed to have their bodies guard each spirit of Hirudegarn (his top half went to Tapion and his bottom half to Minotia). They were then enclosed in mystical music boxes, and dispatched to the distant places of the galaxy. Minotia was sent to an unknown planet, while Tapion was sent to Earth.