"The sleeper has awakened. I am the prince of all Saiyans once again!"
-Vegeta
Vegeta
or
Prince Vegeta
is the prince of the fallen
Saiyan
race and arch-rival to
Goku
. He is the husband of
Bulma
, the father of
Trunks
and
Bulla
, the estranged brother of
Tarble
, and the great-great grandfather of Vegeta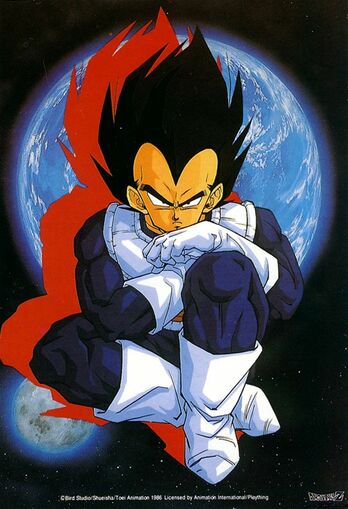 Jr
.
Aside from Goku, Gohan, and
Piccolo
, he is easily one of the most prominent characters in the series, receiving more character development after being introduced than a number of other characters. He was once a young member of the Saiyan army under the Planet trade organiztion, but after his race's demise, he worked alongside
Nappa
and
Raditz
, directly under
Frieza
.
Vegeta is 5'5" tall (in comparison with Goku's 5'9" height) making him kind of small compared to Goku. His hair firmly stands upwards, and has a prominent widow's peak. A main characteristic of Vegeta's is the fact that he is the only living Saiyan who has continued to don the traditional Saiyan armor (in reference to his heritage). He has also been seen wearing alternate forms of the armor, customizing the armor to better suit his persona; however, once he integrates into Earthly society, he abandons the Saiyan armor, at first gradually in
Dragon Ball Z
, then completely in
Dragon Ball GT
in favor of clothing more characteristic of a Human. This may be because his new levels of power eliminate any practical need for fabricated battle armor. It should be noted that Vegeta's uniform
Super Saiyan
transformations.
If observed closely, Vegeta actually changes appearance physically over the course of Dragon Ball Z. He was originally intended to appear deceptively small, lean, and less threatening in comparison to his massive partner, Nappa. However, by the end of Dragon Ball Z, he seems to be taller and more muscular, the length of his hair having also been shortened, though he is still comparatively shorter than Goku, who also appears to have grown taller. Vegeta's facial features also look more distinct and sharply defined as the series progresses, making him look older (though this may be attributed to gradual aging).
Personality
Edit
Vegeta is haughty, arrogant, and bitter as a result of the destruction of his homeworld, Planet Vegeta, and the abuse his race suffered at the hands of Frieza. His royalty seems to have bestowed upon him an inflated sense of superiority, holding himself above nearly everybody he encounters. He is immensely proud of his Saiyan heritage and believes his race to be the most powerful in the universe.
Since childhood, Vegeta has proven himself a ruthless killer, merciless like most Saiyans. During the Namek Saga, he began to exhibit changes; rather than killing Krillin or Gohan as he promised in the previous saga, he instead forges an alliance with them. Having been born into the upper tier of Saiyan society, Vegeta was fixated on achieving the legendary status of Super Saiyan and becoming the most powerful warrior in the universe. After his defeat at the hands of Frieza,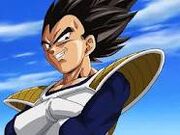 Vegeta tearfully explains to Goku that Frieza forced him to be ruthless and that he never had the chance to be anything else (implying that he could have been kinder and more merciful were it not for Frieza). From then on, Vegeta softened up and occasionally showed compassion to his new family, Bulma, Bulla, and Trunks. In addition, during the Kid Buu Saga, he notably became enraged when he learned that Goku's deal with Old Kai involved allowing the latter to take advantage of Bulma, feeling it was very senseless of Goku, pointing out that he should have used Chi-Chi instead. It wasn't until the Babidi Saga that he gave in to his obsession of overtaking Goku in might, becoming Majin and "evil" once more. This was a desperate, failed ploy to restore his former wickedness, believing it to have been the source of his true power. Goku doesn't believe Vegeta is bluffing, and correctly so; Vegeta demonstrates his prevailing softness in hugging Trunks for the first time and telling him that he is proud to be his father, before performing a sacrificial Final Explosion against Majin Buu. Arguably his most defining trait is his rivalry with Goku and obsession to surpass him in power. In Dragon Ball Z: Fusion Reborn, he goes so far as to break down in tears over his inability to surpass Goku. However, this
obsession has led him to save Goku's life on several occasions, insisting that only he will defeat Goku.
After the defeat of Kid Buu, he has a change of heart, and his angry grudge against Goku became a friendly rivalry. Vegeta shows to be one of the more intelligent characters of the series. He is also one of the most serious, rarely exhibiting humor. When he does so, his humor is very dry and in some rare occasions black. He does, however, delight in mocking his enemies, as demonstrated when he offers to reconstruct Android 18 into a "toaster" or a "washing machine". He also shows his black sense of humor towards Goku when he was about to battle him in the World Martial Arts Tournament. He overheard Goku mentioning of him being full of food and Vegeta swore to punch him straight to the stomach. Normally, his ego and arrogance overshadow his positive qualities.
Majin Vegeta At the beginning of the series to near the end, Vegeta is shown to be exceptionally vain and egotistical. A tragic example of this is in his fight with Semi-Perfect Cell. Though he could have easily destroyed this weaker form of
Cell
, his arrogance bested him, and he purposely let Cell absorb Android 18 just to have a challenge in Cell through which to test his power. While fighting Majin Buu and Janemba, he vehemently opposed fusion with Goku due to his pride, but Goku managed to persuade him, later becoming more willing to
fuse, going so far as to propose it himself in the battle against Omega Shenron. On several occasions, Vegeta conceitedly underestimates his opponents; in the cases of Perfect Cell and Kid Buu, Vegeta was fooled by their diminutive appearances, believing that they had only "shrunk", which is somewhat ironic, given his own short stature, yet large power.
At the end of the Buu Saga and in Dragon Ball GT, Vegeta is much more relaxed. He is often seen smiling and cracking jokes, such as when he forced Trunks to enter the 28th World Martial Arts Tournament, threatening to "cut his allowance" if he didn't enter the competition. Often being more caring and kind to his family, especially his daughter, Bulla, Vegeta admittedly has a kinder side, per his adjustment to Earthly life. The best example of caring for his family is the aforementioned example of hugging Trunks before he fights Majin Buu as Majin Vegeta. However, Vegeta can still be seen sitting on the sidelines, while everyone else is happy, enjoying themselves in the thick of things. Later on, Vegeta developed a strong age-crisis. For example, when driving home with Bulla and seeing two teenagers in an other vehicle flirting with his daughter, he ignores them. After a while, another one of the boys calls Vegeta a "geezer" and he got angry and broke their car.
Vegeta is, iconically, extremely aggressive and angry. Throughout the first half of the Frieza Saga, whomever he defeated, he killed without mercy. His only sign of mercy is when he let Namekian Frog Captain Ginyu live, taking delight at the notion of Ginyu being stuck in the frog's body as punishment enough.
Vegeta, in some instances, has been seen afraid of opponents like Broly and Frieza, but visibly comes around. In Broly's case, this could be out of respect for the Legendary Super Saiyan.
As a member of the Saiyan race, Vegeta possesses a large number of transformations that enhance his abilities to varying degrees and drastically alter his physical appearance. These forms are listed in the order they were attained.
Great Ape
Edit
This is Vegeta's least used transformation. He was only seen within this form twice in the series. The first time Vegeta transformed into this huge ape like monster, he used a Power Ball resembling similar effects of the moon. The second time when he transformed, was in GT when Bulma used the Blutz Wave Generator that she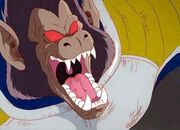 created for him, because he was missing his tail. His size is paramount, his ears are keen enough to hear a pin drop from a mile away. His eyes are big and red. He has sharp teeth, and a large "U" shaped mouth. Unlike Goku and Gohan, Vegeta retains his rationality when transformed (It is never shown how he obtained this ability, but it is assumed it is due to his training, or because of the fact that he is of the royal bloodline) . He is much more powerful than his normal form when transformed, and easily crushed Goku, who exclaimed that not even a Kaio-ken x 5 would work on him. Vegeta claimed that the power of the Great Ape form is ten times that of the Saiyan's base form. If this math can be applied to the power levels reported by scouters, his power level in this form would be around 180,000 (which is the same as Goku's when he fought the Ginyu Force on Namek). 180,000 is also his power level in this form in the video game
Dragon Ball Z: Super Saiya Densetsu
.
Super Saiyan
Edit
This is Vegeta's
Super Saiyan
form. Though it was only a Saiyan Legend, Vegeta was fascinated with this transformation and obsessed over obtaining it so that he could avenge his race by having the power to defeat Frieza. Goku achieved the state prior to Vegeta however as did Future Trunks (Though chronologically, Vegeta actually achieved it first, as Future Trunks achieved the form long after Vegeta had been killed and in the special when Gohan was. Furthermore, in the manga version of The History of Trunks, Vegeta was clearly seen as a Super Saiyan in 1 panel, proving that he had managed to attain the transformation some time after Goku's death.) which only fueled his desire to unlock the potential hidden within him. Vegeta first showed off the Super Saiyan state while he was fighting Android 19, ripping off the Android's arms and thereby rendering it unable to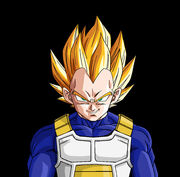 keep absorbing his energy, after which he reduced it to a lifeless head with the Big Bang Attack. In this form, his power greatly increases from his regular level. His hair turns blond, the irises of his eyes become green, and he acquires a golden aura just as Goku had done before him. He gains a slight muscle increase as well. Vegeta mastered this level when he was training to surpass Goku, during the seven year period of peace between the Cell and Buu arcs, thus resulting in becoming much more powerful than when he first became a Super Saiyan
or
when he ascended to Super Saiyan 2nd Grade, able to remain in the transformation for multiple days without the normal exhaustion overcoming him. This is shown when he maintains the form without an aura as though it were his natural state during both his training with Trunks in the gravity chamber, and before his fight with Goku against Kid Buu. After reverting back to base form to calmly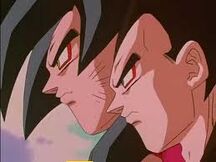 watch the battle that ensued between Super Saiyan 3 Goku and Kid Buu, Vegeta displayed the ability to immediately transform to Super Saiyan 2 without accessing this stage first to distract Buu while Goku regathers his power (previously, this had only been done by Goku at the time, although both he and Gotenks displayed the ability to instantly transform two or more levels when both ascended straight to Super Saiyan 3 from the first Super Saiyan form). He used this form to battle Baby Gohan and Baby Goten. He also used this form to battle Super 17 and Omega Shenron, but is badly beaten both times and nearly killed by Omega Shenron's Dragon Thunder technique.